US18650VTC6
Sony | Murata US18650VTC6 3000mAh 30A High Drain Li-Ion Battery
US18650VTC6 Li-Ion Battery Previously manufactured by Sony Energy – Murata purchased Sony's battery division in 2017. Newer production of cells is marked Murata and not SE (Sony Energy). Older cells will show SE printing.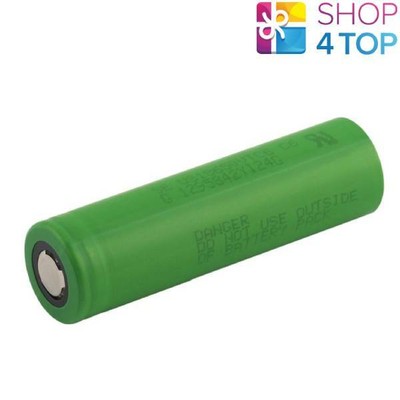 SONY US18650VTC6 RECHARGEABLE BATTERY 3,6V 3000 mAh MURATA Li-Ion 2019 NEW | eBay
Li-ion batteries can be dangerous when used wrong, short circuit or wrong usage can lead to fire or an explosion, follow every manufacturer recommendation for your own and others safety.
Official specifications US18650VTC6 Li-Ion Battery
Typical capacity: 3120mAh
Minimum capacity: 3000mAh
Nominal voltage: 3.6V
Standard charge: CC/CV, 0.2C, 4.2V
Standard discharge: CC, 0.2C, 2.5V
End-of-charge voltage: 4.2V +/-0.05V
End-of-charge current: 0.02C (About 62mA)
End-of-discharge voltage: 2.00V
Continuous maximum discharge: 5C/10C (15A/30A) with temp cutoff at 80°C
Max. discharge current vs. time: 30A-40A > 44s, 55A > 19s, 80A > 6s (Never discharge above 80°C)
Cycle life: 300 cycles @ 0.5C to 80%
Initial impedance: 8mOhm – 18mOhm
Weight: 46.4g +/- 1.5g
Operating temperature: Charging 0°C ~45°C, discharging: -20°C ~ 60°C
Storage temperature: -5°C ~ 35°C
Datasheet for US18650VTC6 Li-Ion Battery

US 18650 VTC6 Lithium Battery 3000mAh High Drain 30A Rechargeable & Charger | eBay
Never leave charging batteries unattended. Never use a lot of strength on battery installation. Style: Flat Top. Weight: 46.6± 1.5g.